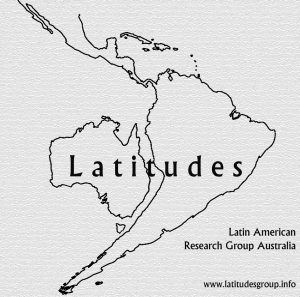 Latitudes is the site and the short name of the Latin American Research Group Australia, an independent association and network of researchers, academics and citizens. Latitudes aims to debate, investigate and scrutinize the politics, culture, and history of Latin America.
We want to exchange ideas and create collective projects, such as the publication of books and the organization of academic and public events. In 2015, we published the book 40 years are nothing: History and memory of the 1973 coups d'etat in Uruguay and Chile (Cambridge Scholars Publishing, UK). The publication compiled a selection from works presented at the October 2013 seminar 40 years are nothing, hosted by the School of Humanities and Languages at the University of New South Wales (UNSW) in Sydney, Australia. UNSW also hosted our 2014 Debates.
We welcome contributions from people in Australia and beyond who would like to collaborate, share research projects (such as The Down/South Archive), produce collective initiatives, and further the study of Latin America.
You can contact us at latitudesgroup@gmail.com or write to our emails:pabloleighton@gmail.com & f.lopez@UNSWalumni.com.
More info: www.latitudesgroup.info.